A full integrated and accessible membership management system for the national peak body supporting and representing clinical trial within the Australian healthcare system.
A staged approach with fast turnaround
When we submitted a tender proposal for the ACTA digital platform and membership management system, we proposed a staged approach: completing the public-facing part of the platform by October and then continue with the membership management side after that.
After winning the tendering process we started the research and discovery phase and put together a timeline. The first stage of the website needed to be ready by the beginning of October, in time for the Clinical Trial National Conference – this was a non-negotiable.
As ofter happens, between stakeholders and bureaucracy delays, we started the project about 5 weeks later than initially planned.
Despite the initial 5 weeks delay and working together with a tight and seamless collaboration from ACTA's staff members, we managed to deploy the first stage of the website a good 2 weeks ahead of the conference. It was a success!
No cut corners
Working with ACTA's team was an absolute delight. They were fast coming back with decisions and feedback. This, together with our proven process and A-Team, made the project a breeze.
We managed to complete a site redesign and redevelopment, from kickoff meeting to deployment, in less than 8 weeks!
And no, we did not cut any corners. In fact, we went through all our normal project phases – we even went through a round of interviews and questionnaire to better understand what the target audience wanted.
Complex
Membership Platform
CUSTOM WORDPRESS DEVELOPMENT
We developed this fully customised WordPress platform to manage the Members and registered users of ACTA.
The editors are empowered with a simple to use platform that is built for purpose. The Resouce Hub not only allows them to add and edit new resources in different formats (Video, Audio, Documents, Websites) but also to reference any resources anywhere else on the website.  This allows them to update once and distribute that document across the whole website.
Events with Eventbrite integration
The events are managed directly in Eventbrite and fetched on the system, with the specific register link going straight into Eventbrite –  another handy way to reduce editor time.
Public and private forum
The Forum functionality is based on BBPress and customised for ACTA needs. We have set up 2 different forums: One is Member-only, while the other one is public.
The public forum needs account registration, which is also possible through social media connection.
Applications and Member-only content
All membership at ACTA needs to go through board approval.
The Membership application is delivered to ACTA's emails with a PDF attached, which they can print and discuss during the board meetings.
The Member-only content has different permissions level depending on the type of members – for example, the Find a Statistician and Find a Health Economist directory.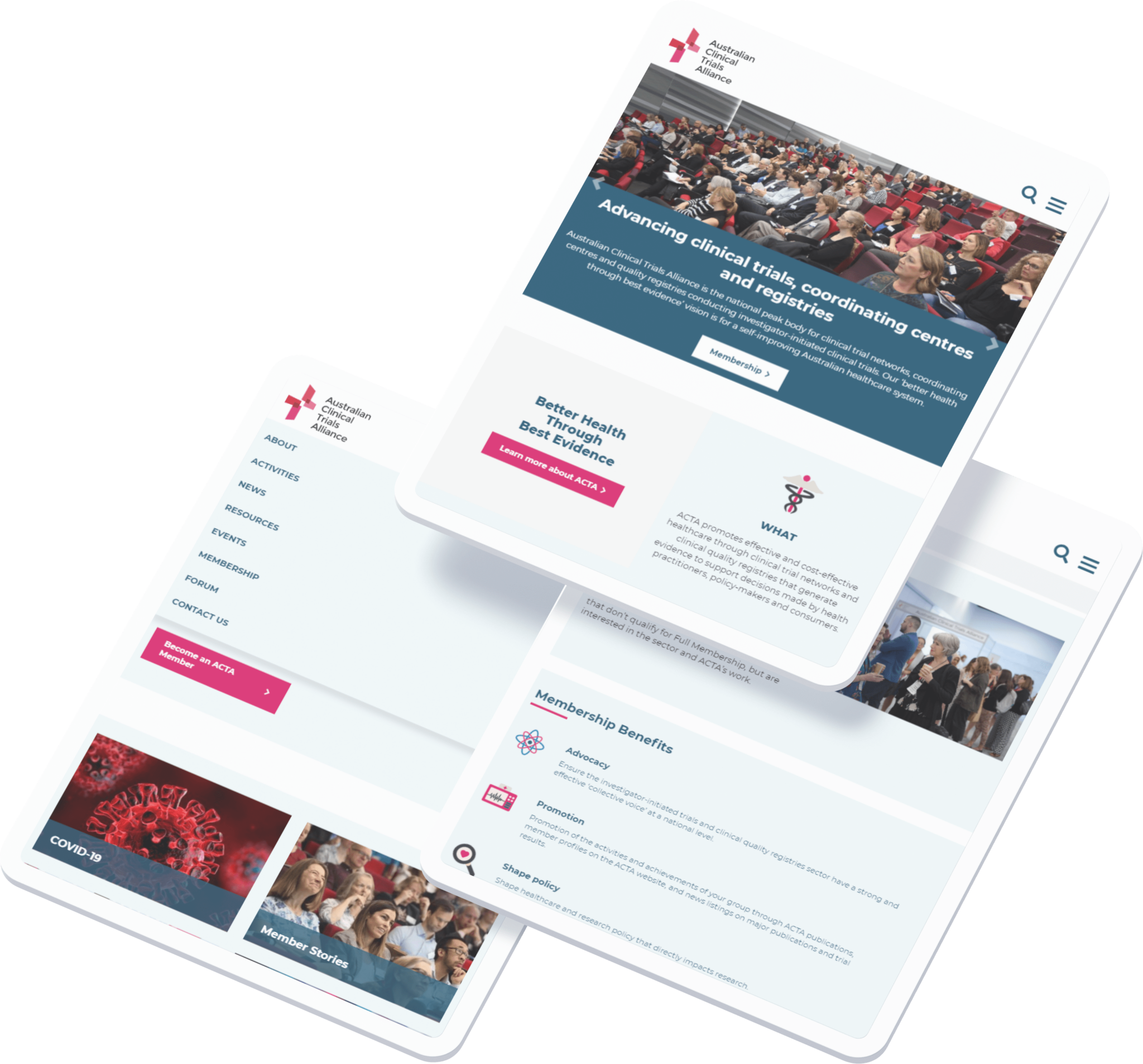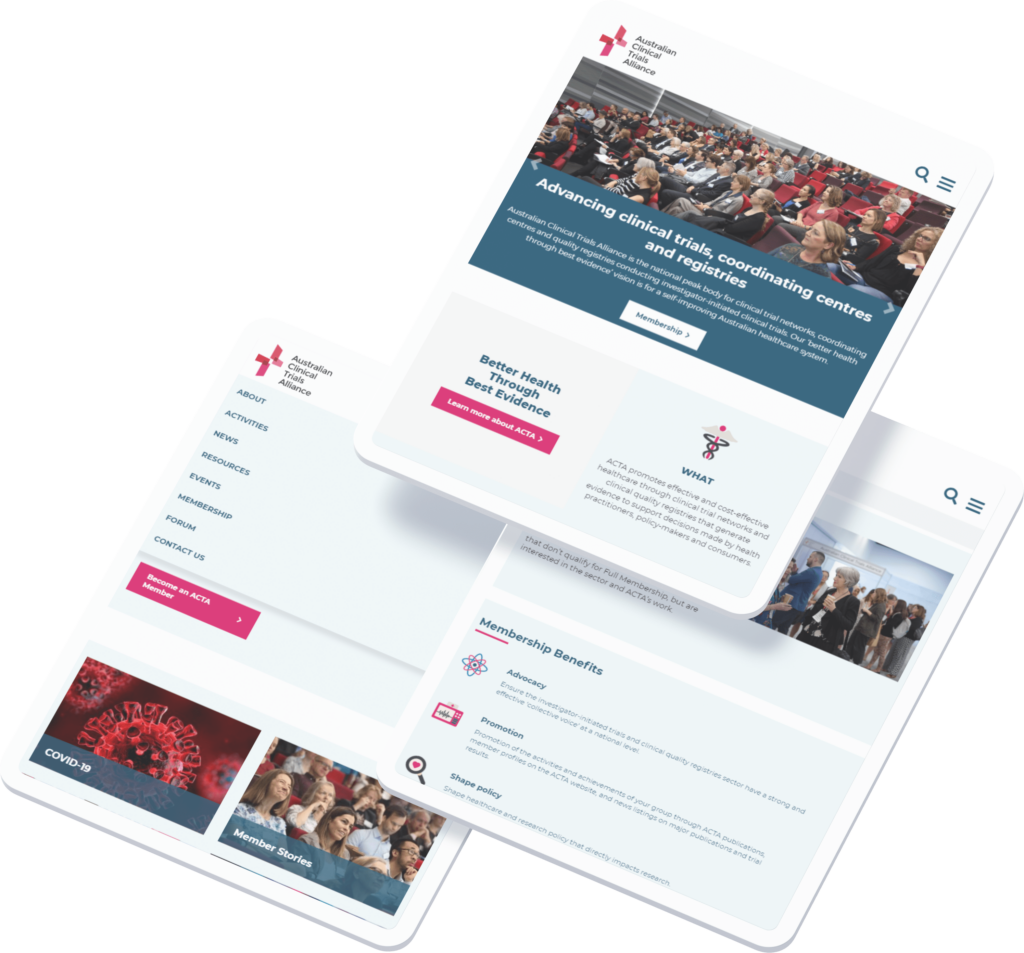 Benefit
delivered
BUSINESS SUCCESS
Editors can easily update and create pages through the CMS
Events are automatically synced from EventBrite, the platform ACTA uses to publish their events
Resource Hub with customised search and filtering capabilities.
Editors can add resources in different types: audio, documents, websites etc
Editors can reference any resources anywhere on the website so that when that resource is updated, it gets updated everywhere it is referenced
Management of different memberships and registered users of the platform
Some content is only accessible by Members, depending on their level of permissions
Find a statistician and Find a Health Economist directory
Public and Member-only forum
The platform is fully accessible by people with all abilities. Web Accessibility standard – WCAG 2.1 AA
Open the project

Clinical Trials Alliance